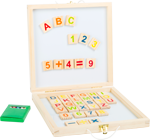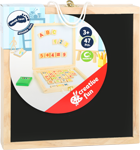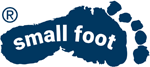 Blackboard Box Magnetic Letters and Numbers
This product is currently not available.
This wooden chalkboard box belongs in every children's room; it's ideal to help children learn arithmetic and writing
Children can easily learn the alphabet with the 26 colorful letters, and the numbers 0 through 9 are there to help with maths
Children between the ages of 3 and 12 years old have many opportunities to realize their artistic abilities.
The wooden chalkboard box shortens the wait for school and makes it fun.
Promotes creativity and is naturally also loads of fun!